Are you planning a company trip? We have extensive experience and excellent facilities for social and educational days in the mountains. We are happy to arrange complete packages with transport, accommodation, meals, activities and meeting facilities.  
​We are also happy to tailor your company event to your needs and wishes. We have meeting rooms for companies that need a legitimate reason to visit us and we are experienced in teambuilding for all levels of ambition.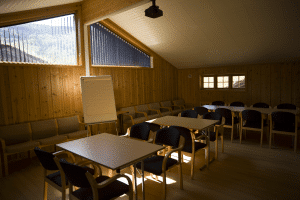 Real experiences
Many companies want to combine meetings with exciting activities. We tailor business trips to their needs and wishes and offer to combine many exciting activities with rafting, food and accommodation.
Unique atmosphere
Our camp is uniquely located on the shores of Sjoa creating the perfect atmosphere for our guests. There is a lot to explore at our camp. It is both a gathering place for activities, a wilderness camp for those who want to sleep in a lavvo, as well as indoor accommodation for those who prefer that. Here you will find a dining hall, meeting rooms, a sanitary building and a bar with all permissions.
If you want a higher standard of accommodation, we work with Kvitfjell booking who offers accommodation in large cabins. We can arrange transport between Sjoa Rafting AS and Kvitfjell.
Teambuilding and motivation
All the activities at Sjoa Rafting AS include elements of teambuilding. We facilitate teambuilding at different levels based on the desired purpose and we can offer well-tailored conference facilities.
Suggestions for a conference stay
We have had many company conferences for years, and we know exactly what is needed to obtain a successful arrangement. Get in touch for suggestions, tips and ideas – here is one suggestion: 
​
A 3-days stay
Arrival day 1 in the afternoon

Pentathlon on the island

Spekemat or a two-course dinner

Social gatherings and accommodation

Breakfast day 2

Conference

Hot lunch

Rafting

Hot tub after the trip, 1.5 hours or bridge jumping

Dinner, standard two-course barbecue dinner:
– Served in the dining room
– Served at the barbecue area

Social gatherings and accommodation

Breakfast day 3

Conference

Departure before or after lunch
Go to PRICES to get a full overview of all options.